In the last few months there has been a lot of rumours about Nokia and its future hardware strategy. Especially after Microsoft has purchased the Nokia Handset division, the rumours have seen to keep on coming. To me, Nokia has always been a symbol of superior hardware that is both durable, beautiful and convenient. Even when Nokia chose to go with Symbian for the majority of their devices I still drooled over the handsets, but the OS put me off.
Now that the brilliant and superior Windows Phone eco system has found its way to Nokia, the combination is a match made in heaven for me. I want every handset that comes out (although the "boss" doesn't agree with this). There are new handsets coming out all the time, and the rumours keep that strategy alive for us consumers and developers. The line now consists of low end phones like the Lumia 620 to the incredible Lumia 1020 with a 41 Megapixel camera that outperforms not just mobile phone cameras on other devices, but dedicated digital cameras in droves. There is the new "phablet" Lumia 1520 with its gorgeous 6 inch screen and even a new Windows 8 tablet, the Lumia 2520 (which was said to be a "bizarre move" back in April).
But where does the road lead ahead. Lately a few drips and draps of information has come out of the rumour mill that is the Internet, and I will try and make sense of them below. Please add any devices or ideas I might have missed in the comments below.
Goldfinger and Moneypenny
According to Mary Jo Foley from ZDNet, the next iteration of Windows Phone is reaching RTM stage at the end of March with possible public availability early May. I would fully expect new devices from Nokia to be launched as part of the big fanfare, and apparently two new devices, code named "Goldfinger" and "Moneypenny" are in the works. Goldfinger is the flagship model of the two and comes with a unique 3D touch feature, which will recognise 3D gestures. Currently the Lumia Glance feature will show the time if you wave your hand in front of the screen, but this could be much more. I hope they will open it up to developers, so we can get a play with app specific gestures. It could be really interesting for games depending on accuracy. The fact that Nokia is planning new handsets for the 8.1 release is very exciting.
Lumia 1820 – 5 inch Phone
On the back of the great reception of the Lumia 1520 Phablet, Nokia is planning a smaller 5 inch model of the same family, dubbed the Lumia 1820. This means a full HD screen and the new Lytro-style main camera. The camera can take a picture and you determine the focal point after the fact. Apparently it also sports a full metal body, which would be a style change for Nokia. Hopefully this means the enormous amount of cracked screens I see will go down. But probably not.
This could be a possible replacement for the flagship Lumia 1020, but I am doubtful about that. I have used my 1020 for about 5 months, and I absolutely love it. I have already filled up the memory with photos once, and I now rarely carry my large DSLR anymore. A possible replacement device would need to have equal or better camera performance for me to change. Having said that, Nokia continues to amaze me, so I am not making any bets.
Lumia 2020 – 8 Inch Tablet
In the same vein as the 1820 above, the 2020 is a Windows 8 tablet, which will fill the gap in the product line. Hopefully it will not be running the RT version, but maybe it will. I don't know much about this device, but nonetheless it is on all the rumour gauges for Mobile World Congress in Barcelona at the end of February 2014.
Normandy Android Phone
This is an interesting one. Apparently Nokia has an Android project in the works, and the hardware is similar to its Lumia line-up. There has been so many rumours that it is probably true, and it certainly raises a few questions initially. The most pressing one is: If Microsoft has bought Nokia, why is there an Android device being born?
If you look at the leaked photo, it is somewhat resembling the Windows Phone start screen. This could be a way of getting a low cost Nokia device into the hands of more people, and then making the switch to Windows Phone is less arduous, when that time comes. I wouldn't be surprised if it would share some features of the current Asha platform as well. It is very likely to be a low end device, and only sold in emerging markets.
It is likely that this device will also be launched or premiered at MWC in Barcelona.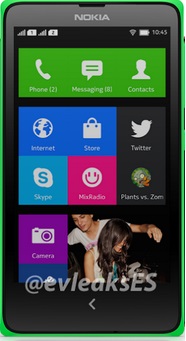 Smart Watch
Finally there is the matter of Smart Personal Object devices, in this case a Smart Watch. This is all rumours and there is no actual evidence of its existence, but considering Samsung has brought out the Galaxy Gear, it seems more likely.
It is unclear what the functionality or hardware would be, but I could imagine a camera, viewfinder for your Lumia's camera, notifications and calendar/reminders. Oh, and it might show the time too.
If it is anything like these designer concepts from a Facebook Phone Designer account, we can start to drool all over again.