I am still amazed at how many smartphones I see out and about that have broken screens. Some have small cracks that would be annoying, and some are downright useless with a completely shattered front. I do realise that not everyone is in love with their devices like me and the rest of the WinPhan community, but come on people. You wouldn't drive around with a completely shattered windscreen. Not to toot my own horn too much, but I have never broken the screen on a phone. I have replaced many iPhones and Android screens for friends and co-workers but I don't generally throw my phone around. In any case, I got my hands on a Lumia 1520 recently and this gorgeous device of magic and fairy dust has a larger screen than any other phone I have seen. Larger screen = even more destruction possible. And considering my lovely partner would be using this device I thought I would get a protective cover for the 1520. And I got two. Just to be extra safe.
Nokia Protective Cover Case
Nokia accessories are generally great quality and you get to part with more of your heard earned cash to get your hands on one. The Nokia Protective Cover Case is in the same category. The fit is tight and snug when you click the phone in place. The case consists of a plastic protective shell and a cover made from a type of faux suede. The corners get extra protection, as they are traditionally the weakest point on any phone in case of a drop.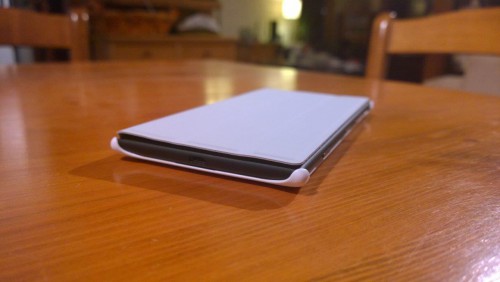 The Good
When you hold the 1520 with the Nokia cover in your hand, the phone doesn't feel any bigger (it is big enough already). Because the cover is made of semi-soft material, it folds around the phone nicely and doesn't get in the way (much).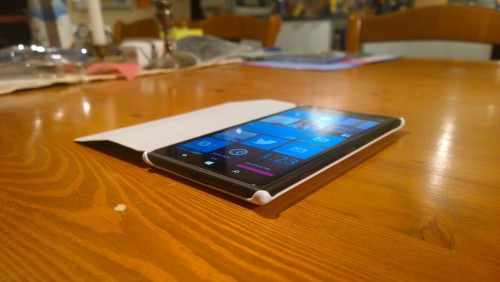 The Bad
The Lumia 1520 has a gorgeous large 6 inch screen, which is great for watching videos. It is especially good for watching videos and looking a photos, as they are really made to shine on the full HD screen. The Nokia Protective Case Cover doubles as a stand by folding the soft cover into a triangle, which the phone can then lean on. However, it feels vague and wobbly. Like it will fall over at any moment. And you really need to place it on a completely flat surface, so if you are on the go, you have to hold the device in your hand anyway. Oh, and it is rather pricey.
Capdase Sider Baco Folder Case
I had never heard of this brand, but I liked the look of it. It is more of a "full featured" case than the Nokia, as it provides a plastic shell to place the 1520 in, as well as a hard front and back. The front flips open like the Nokia cover, but provides a couple of storage places for credit cards.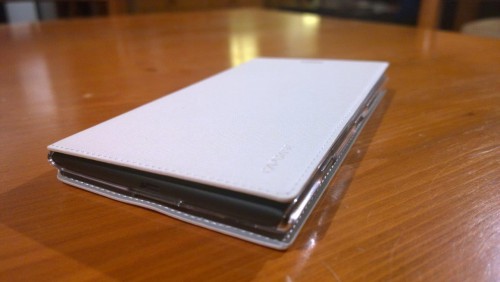 The Good
The Capdase case feels very sturdy and high quality. Especially the plastic shell has a sense of security saying your precious phone will not be let go from its grasp. It is safe. The material gives off a feeling of Teflon or carbon fibre, which hopefully makes it less prone to smudges. There are two slots for your credit card or other plastic card, which here in Melbourne would be the dreaded Myki (commuter pass). The landscape stand that is built in to the case works beautifully. It is much sturdier than the Nokia case and you don't feel like it will topple over at any time it feels like it. I also really like that the front cover closes with suction cups on the screen of the phone. I hope they keep working, as it makes sure everything is in the right place and as it should be. My Germanic heritage likes that very much.
The Bad
Compared to the Nokia case it is a bit more bulky. The device is no longer as comfortable to hold in your hand, and answering calls and holding the phone to your ear means you will have the front flap resting on your head.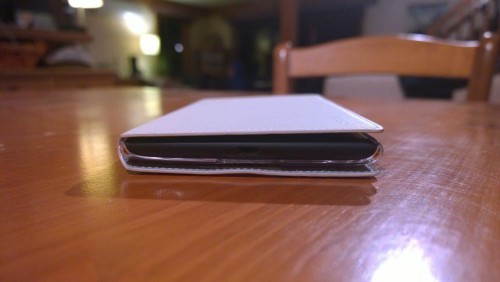 Net Result
To me it is a no brainer. The Capdase case is better made, has more features, feels like higher quality and it is almost 25% cheaper. I don't know long term, but I would venture a guess and say it is on par with the Nokia case in terms of durability.
The Nokia case is not terrible in any way. It is just not great.
To get either of the Lumia 1520 cases from this review, check out our friends at Mobile Zap: Lumia 1520 Cases
Disclaimer: The Capdase Sider Baco Folder Case and the Nokia Protective Cover Case were provided by Mobile Zap for this review, however, they have had no influence on the content apart from the link to their site.