A few months back I bought my Lenovo Yoga 900, after a long time of reading reviews, talking to people, evaluating ultra books and trying to make as informed a decision as possible. I was so wrapped with my choice that I kept telling people how good it is and a few people agreed (and consequently acquired one of their own). I still use the Yoga every single day and it is my number one machine for heavy duty work such as Visual Studio, Unity 3D, SQL Server and other development tooling I use regularly.
However, when Lenovo offered the ThinkPad X1 Tablet to me, I immediately saw a use outside that of the Yoga 900. In fact I was still using my original Microsoft Surface Pro, which had been my trusty second device for about 4 years, and the thought was the ThinkPad Tablet would replace that device very nicely.
Having used the tablet every day for the past three weeks, here are my thoughts (good and bad) on it.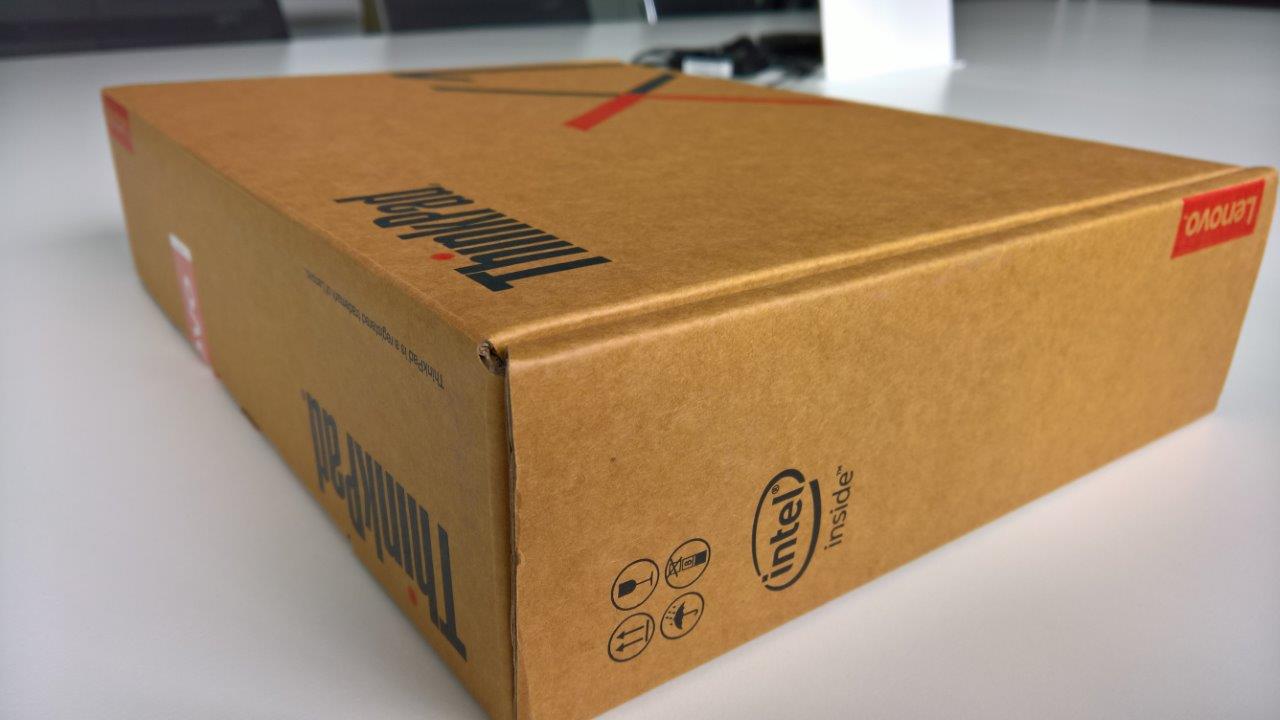 Hardware
The one thing that caught my eye initially when I saw the ThinkPad Tablet in the wild was that it has a real keyboard. I know that the Surface Pro, iPad Pro and other tablet devices have a great keyboard as well, but this looked like a laptop ThinkPad keyboard, one of the very best keyboards attached to a laptop IMO. And low and behold, it was exactly that. They keyboard on the ThinkPad Tablet is a cover for the screen, as well as being the ultimate slim design keyboard. It has the trackpad, trackpoint (love it or hate it), full keyboard (with full size shift keys so you don't hit enter randomly) and quality feel to it that you expect from ThinkPad. It is slightly thicker than most "cover keyboards", but it is a sacrifice I am completely okay with.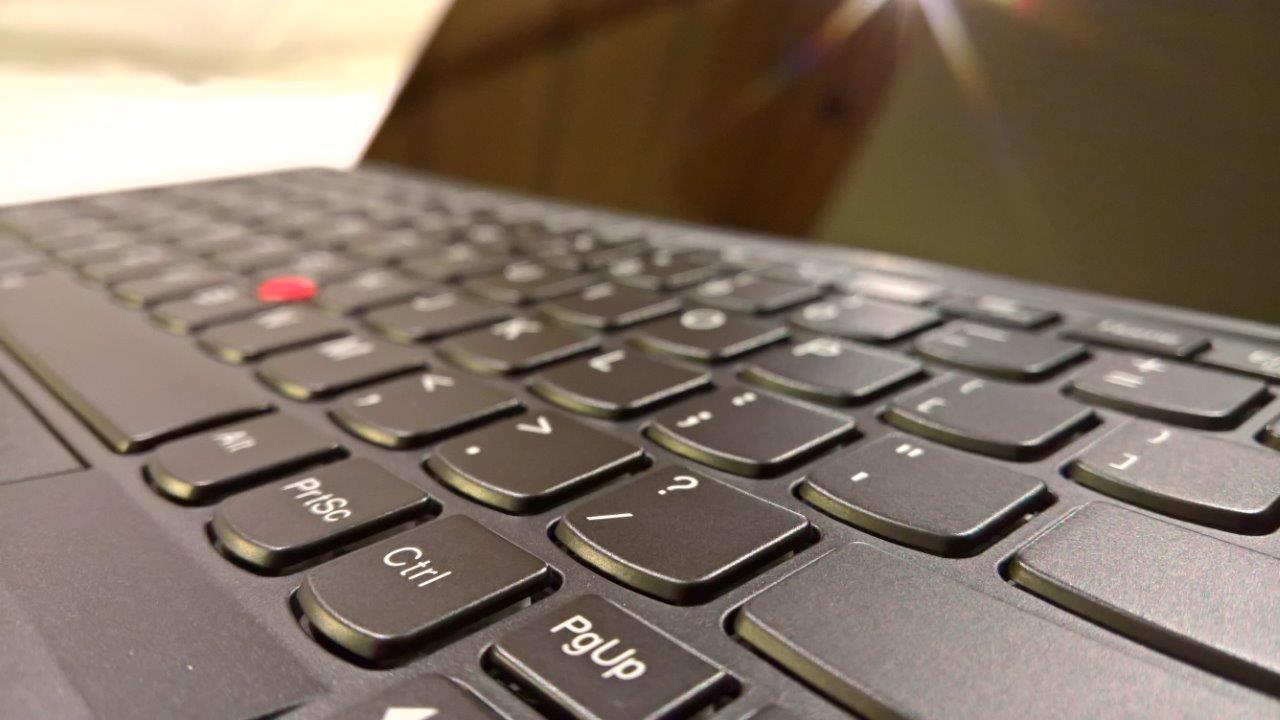 The tablet is a fully blown PC and the version I have comes with an m7 Intel processor, Intel's power optimized next gen CPU, 8GB RAM, 256GB SSD and Windows 10 Pro. This machine is ready to rock (your Excel spreadsheets). It also sport a USB 3.0 port, a USB-C (for charging as well), mini display port, SD card slot and the optional 4G LTE connectivity via a nano sized sim card slot. I have acquired another sim card that shares my data plan, and it seems the Thinkpad Tablet has better connectivity than my Lumia 950XL. Having the sim card always in the device is just really convenient and works very well.

To be honest though, I use the tablet not because of its very reasonable hardware specs, but because of the keyboard. It is just superb.
Features
Apart from the keyboard, there are two main features I keep coming back to. The active pen and the fingerprint sensor. The latter is just a really quick way of logging into the PC securely and after training Windows Hello on my fingerprint, works very consistently. It seems a waste though that it is only used for authentication. It would make sense to launch a specific app with each finger, perhaps have code snippets in Visual Studio launch, have a finger for deleting emails in Outlook or something else. There are lots of ideas to use the fingerprint sensor more fully.
The pen is a new experience to me. I am not an artist and my stick figures are average. I just don't draw things. I don't even make doodles in meetings. However, I have made an effort to use the pen whenever I am in tablet mode, and especially the hand writing recognition works a treat after a bit of practice. My son has event taken to ask me to draw on the new Sketchpad in Windows Ink. He just gets how the pen works.
As any tablet, the ThinkPad also has a touch screen. Having used the Yoga for some time, I have become accustomed to using a touch screen for quick actions such as button presses and scrolling through documents or websites. It is one of those things you don't think you need, but once you have it you can't live without it.
Pen & (Digital) Paper
I have never used a pen with a tablet before. I have used a stylus on a number of devices, but none of them have been active. The pen coming with the ThinkPad tablet (using WRITEit technology, whatever that is) is magically talking to the device, so it knows when you are in a context of writing, such as for forms on a website or in a Word document (you might have to bring up the on screen keyboard manually though).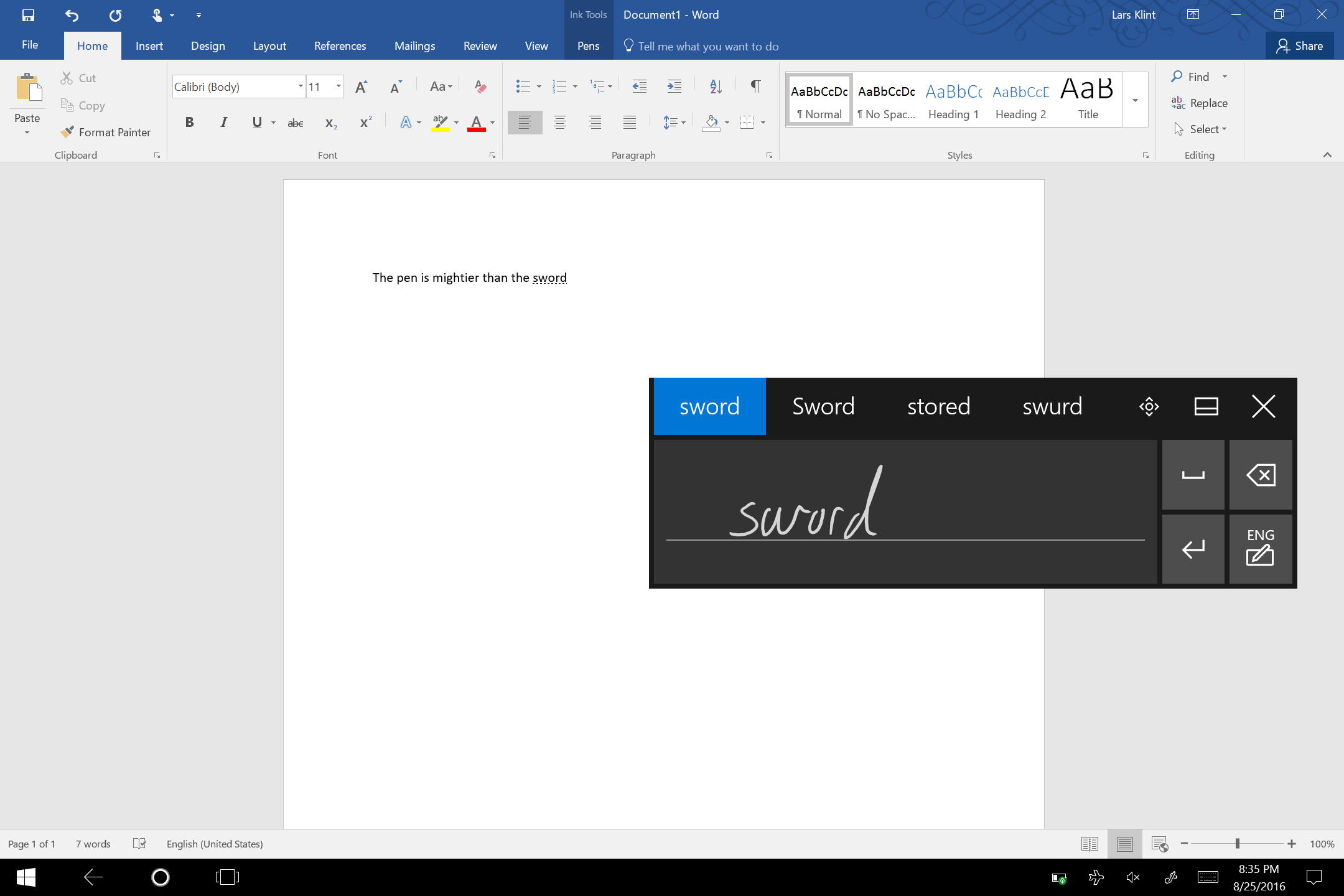 The clip holder that comes with the pen fits into the USB port and is surprisingly sturdy. I haven't had the pen disappear even once, despite the tablet living in my bag when I am not using it.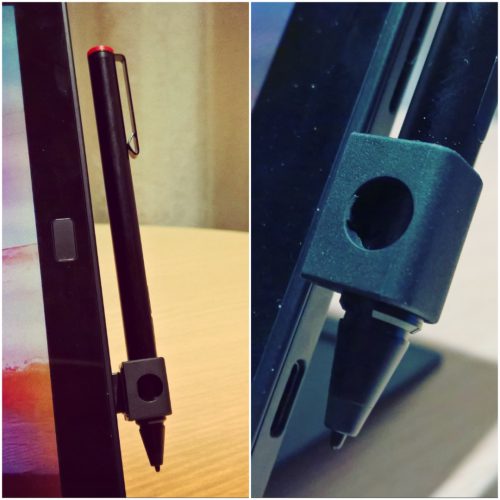 The pen quickly becomes a normal part of using the device in tablet mode and although it is a little small works very well. It also has two active buttons on it, which developers can assign functions to, through the Windows 10 inking API. For example for the built in sketchpad, pressing one of the buttons while drawing will make the pen an eraser. Little things like this make it a more inviting proposition to use the tablet in tablet mode, instead of the keyboard. Although, it is up to app developers to not only implement, but also educate users on the functionality of the pen.
Form Factor
One of the main gripes I have with the ThinkPad tablet is the form factor. While I appreciate the size of the screen, it is the wrong form factor for my work habits. The screen ratio is 3:2, where the Yoga 900 is 16:9. The more vertical space to horizontal means that apps are taller rather than wider.
I often snap two applications to 50% screen each, and lots of the apps just get too tall and scrunched up. The new UWP Skype app is a good example, where the conversation windows is just on the edge of switching to mobile view, so the conversation windows is very narrow. This means conversations scroll off the screen much quicker. It isn't a deal breaker for a great device, but one of the little annoyances.
Accessories
The bottom of the tablet has a detachable panel, which exposes connectors for attaching accessories.
Although not released in Australia (but is in US) there are two very interesting accessories coming from Lenovo (or "modules" as they call them in marketing language). The first is a Productivity module that is essentially a battery pack, but delivers op to 15 hours of battery life.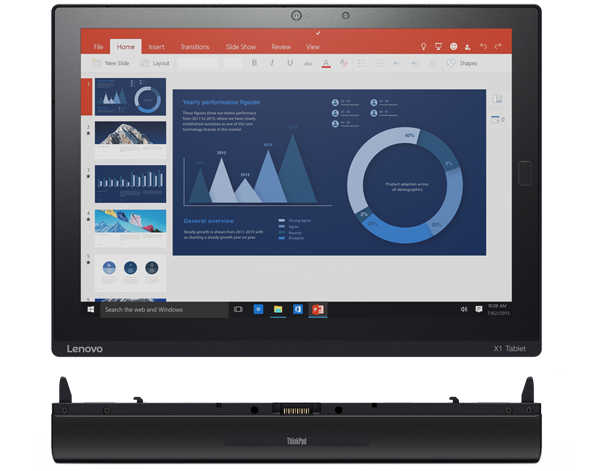 The second module is the Projector module, which gives you a a 60 inch projected screen from about 2 meters away. Additionally you get a full size HDMI connector.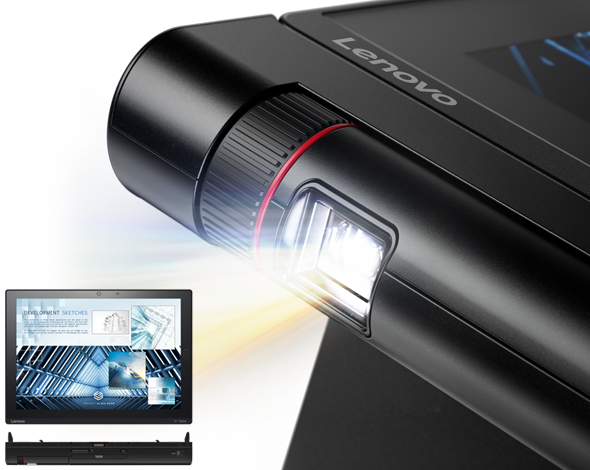 While I haven't tried any of the "modules" yet, I am excited of the prospect of extending the capability of the tablet.
Final Thoughts
Compared to my original Surface Pro, the ThinkPad tablet is far superior, but it is also much never tech. The main thing I notice is the quality of the device and how chunky and durable it feels. There is little I can put my finger on, and I just absolutely love the keyboard. For me it makes the device so much easier to live with and to use every single day.
It is expensive though. Starting at $1,999, it is not your average consumer device and seems to be very much targeted at business users. I wouldn't recommend it for just using while sitting on the couch (although it is great for it), but if you travel a lot and spend much of your time away from your desk or normal workplace, it is great.