I did it again. I put my hand up to help the Windows Phone community in Melbourne, this time for the //publish/ event on 17 May. And I ended up organising it. But that is cool, because now I am in charge and I can set the agenda.

What is //publish/?
In a nutshell: Finalize your app projects with peers and expert support.
Bring your Windows and Windows Phone apps to one of over 60 global //publish/ coding events.  Receive onsite support to help you overcome the final technical blockers, add finishing design touches, and get your app submitted to the Windows Phone and Windows Stores.
In other words, it is a whole day of expert help, just for you. It has the flavour of a hackathon, and there are awesome prices as well. The winners will take home a brand spanking new Nokia Lumia 1520 as well as a Dell Venue 8 Pro. Furthermore, we will have physical test devices on the day for you to test your work on. It will be an awesome day of learning, competitiveness and WinPhan goodness.
How does it Work?
Bring your existing app and game projects to Microsoft's //publish/ event to code with developers from around the world. Collaborate and get help with app design, performance, testing, publishing, porting from Unity – you name it. It's an event devoted to getting your app up and running smoothly on Windows phones, tablets, and PCs.
Receive onsite support from Microsoft and community experts to remove blockers and add the finishing touches to your project. Join a testing group of your peers and try your app out on a range of devices. Connect online with developers and Microsoft product specialists from all over the globe in simultaneous worldwide events. Show off your completed project at the App Showcase.
But Wait! There's more
But that is not all. Submit your app before 1 June and be in the running to win even more prizes in the //publish/contest.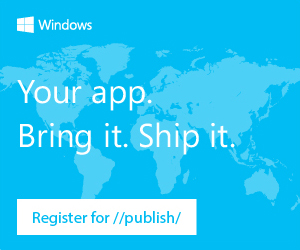 So what are you waiting for? Sign up now.