Our friends at #WinPhan is launching the Scavenger hunt. Read below for all the details.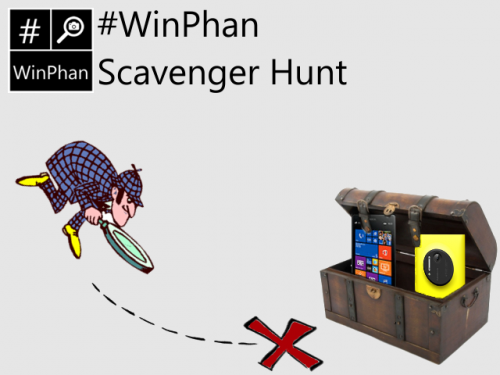 Win WP prizes and more for entering your photos of Windows Phone themed targets! 
IDEA: #WinPhan Scavenger Hunt
DESCRIPTION:
This scavenger hunt contest will span 5 months commencing on the March 1st, awarding 1 Windows Phone themed prize per week for the first four weeks and bimonthly for the remaining 4 months for a total of 12 prizes. Each week an entrant will be drawn via a random number selecting software and awarded without bias. The 12 winning finalists will be automatically entered into a random final drawing for the grand prizes, a Lumia 1020 and a Lumia 1520. Weekly/fortnightly prizes will be detailed in each relative announcement post on Winphan.net.
RULES:
To participate, register at http://winphan.net, (registration required so that we can verify your email) simply take a picture of the target theme for that week, then share a OneDrive(SkyDrive) link of that photo to: contest [at] winphan.net  A maximum of 2 entries per participant is allowed per target theme/contest round.
TIMES:
Each target theme will be posted on Monday's at 8am PST and entries must be submitted by the following Sunday's at 5pm PST for the weekly and every other Sunday at 5pm PST for the bimonthly. Winners will be announced on Tuesdays via our website winphan.net, Facebook page and Twitter accounts [@winphan_global, @thewinphan].
CONTACT:
Winners will be contacted via email on occasion of weekly draw announcement. An email will be sent requesting certain details, Full Name, Phone Number, shipping address, clothing sizes and preferences if applicable, and any other information that may be deemed necessary by us to deliver prizes in an expedited manner.
Any information collected by Winphan.net will be handled in accordance with our privacy policy, and not shared in any way with any other entity.
Failure of any contestants to respond to email in a timely manner, [ie; one month from the most recent attempt by winphan.net to contact them] will result in prize forfeit, and another random drawing for the prize to be awarded to another participant from the same round of the contest.
This contest is open to people from all parts of the globe, and irrespective of what device the images submitted to the scavenger hunt are produced on.
SCAVENGER HUNT TARGET ITEMS: (Each Weekly Target Theme Are To Be announced On Monday's)
WP SWAG(Pens, Stickers, etc.)
WP Clothing
WP7 Device
WP DIY Project(Holders, Cases)
WP Art(Kids Drawings, Your Drawings, Unique WP)
WP In The Wild
WP(W8) Ads(Billboards,Print,Adverts)
WP Converts
Your WP Carrier or MS Store(Selfie)
Multiple WP(Collections)
WP Cameos(Movies/TV/Music)
WP Food And Beverage(Baking/latte art)
PRIZE LIST:
WEEKLY PRIZES:
WP SWAG
WP Clothing
Accessories
WP App Vouchers
GRAND PRIZE: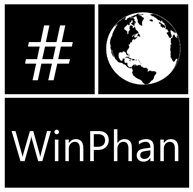 About #WinPhan
Windows+Phone+Fan=#WinPhan!
#WinPhan is a community built to connect Windows Phone owners, offer support, spread the good word about Windows Phone, and bring the lighter side of WP to you! Our #WinPhan community is comprised of Windows Phone enthusiasts, average users, beginners, developers, fanboys, and fangirls! Together, we all share in our admiration and appreciation for Windows Phone 7 and Windows Phone 8! While we might talk about the news…we're focused on sharing each person's experience and personal journey! Join us as we have fun spreading the joy of Windows Phone to and with others using pics, tweets, videos, and other goodies too! Learn how to get the most from your Windows Phone from people just like you!