Disclaimer: The below laptop was provided by the Lenovo INsiders program. No payment nor incentive was received to write this article, nor was is approved nor vetted by Lenovo.
In December 2018 I received a Lenovo ThinkPad X1 Extreme, and since then I have used it as my daily machine both in my office, on the road and for everything else. This post expresses some of my thoughts, good and bad, about the device collected through 12 months.
The Hardware
I'll start with what comes out of the box. The actual machine and its physical form. If you are familiar with ThinkPad, the X1 Extreme is both an old friend, and a new slightly different cousin. If you want all of the tech spec, which I won't go through, check them out on the official Lenovo page.
The device is unmistakable ThinkPad with the sturdy and time proven keyboard, the red trackpoint adorning the center of the keyboard and the matte black finish. Personally I have never got used to the trackpoint. I am a touchpad kinda person. But for many many ThinkPad users that trackpoint is the most efficient way to control their pointer.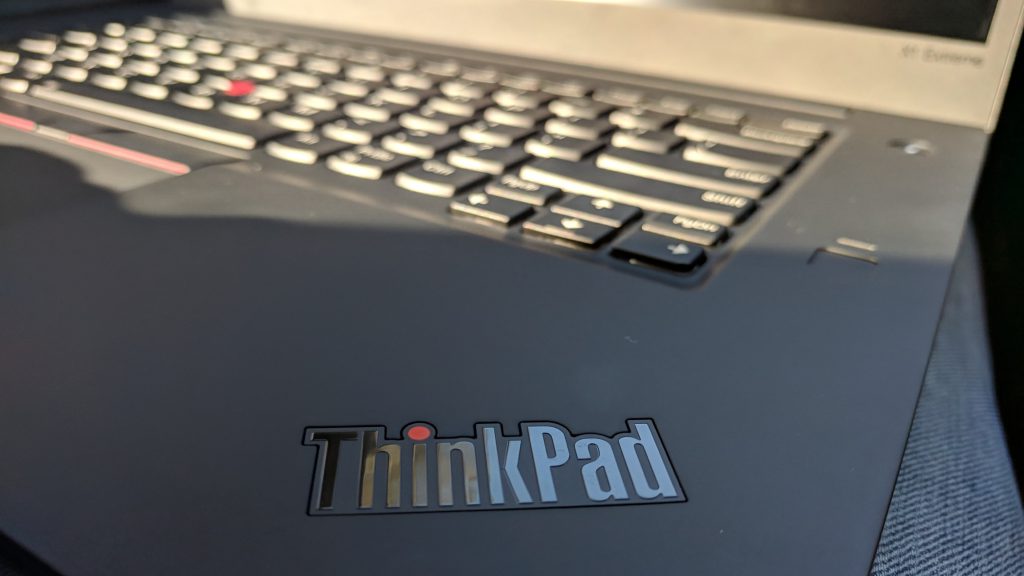 The chassis itself, that is the housing of the whole device, is ThinkPad too. It is slightly larger than "normal" ThinkPads, at a 15.6″ screen and with a quite wide bezel around the keyboard. There probably could have been room for a full numerical keypad too, but I don't use those, so I am fine with the way it is.
There are two USB-C ports and two USB 3.1 ports for connecting devices, which is pretty generous on a modern laptop. There is also a full-size HDMI port, which I have found extremely useful, considering how many talks I do around the world.
The main thing I have found a nuisance is the bespoke power adapter. Because of the grunt of the machine, having a NVIDIA GeForce GTX 1050 Ti Max-Q 4GB GDDR5 graphics card and an i7 8750H CPU, more power than USB-C can supply, is needed. Almost every single other device I use daily (including my Sony BT headphones) have a USB-C charger. This means I have to carry two chargers everywhere, instead of one. Not a huge deal, but still a mild nuisance (yes, I could choose a laptop with USB-c as daily driver too).
Form Factor
For a high-end modern laptop, the X1 Extreme is pretty big. I mean, it isn't a gaming laptop giving you a hernia, but it is on the larger side. At 1.7kg (the non-touch screen model I have is slightly lighter) is easy enough to carry, but can feel a little cumbersome at times. The payoff for the more grunt and larger screen size is worth it for me though. I have a standard backpack from Microsoft, and it fits fine in that. The large charging brick is of course also a thing to carry.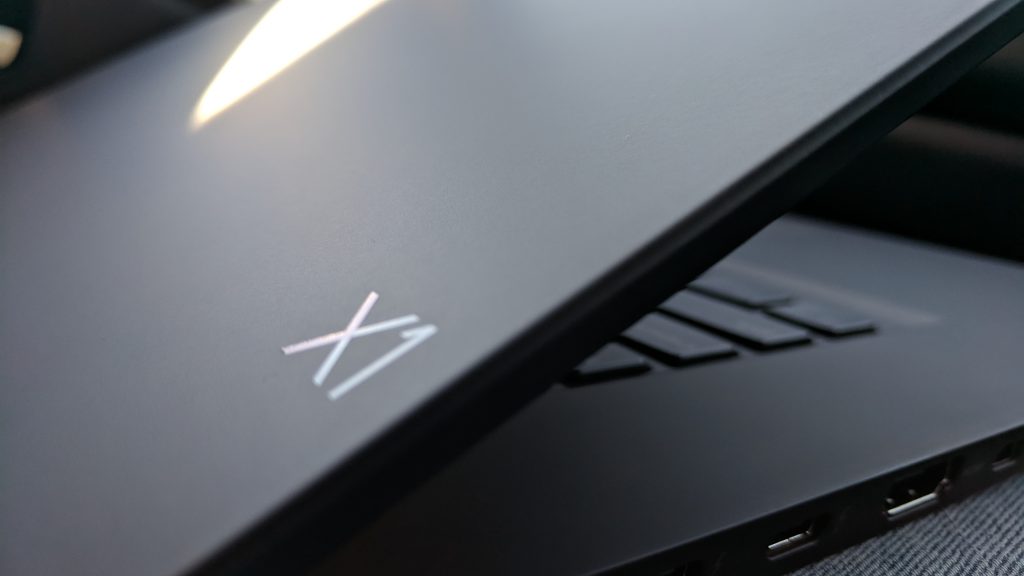 Travelling With It
I do a fair amount of travelling, whether it is locally, interstate or overseas. The X1 Extreme has been my steady travel partner for the past year on all trips.
Working on the train with the X1 Extreme, which I do once a week for 1.5 hours each way, is okay. It is a little on the tight side, but works just fine. Even an economy seat on a plane to Europe is okay, and only a tiny bit of seat acrobatics is necessary. And speaking of travelling for long periods of time: the battery. Lenovo promises about 9.5 hours in discrete battery mode. I rarely get more than 6-7 hours. Still not bad, but it could be better for those long trips (and part of the reason I travel with my ThinkPad X1 Yoga as well).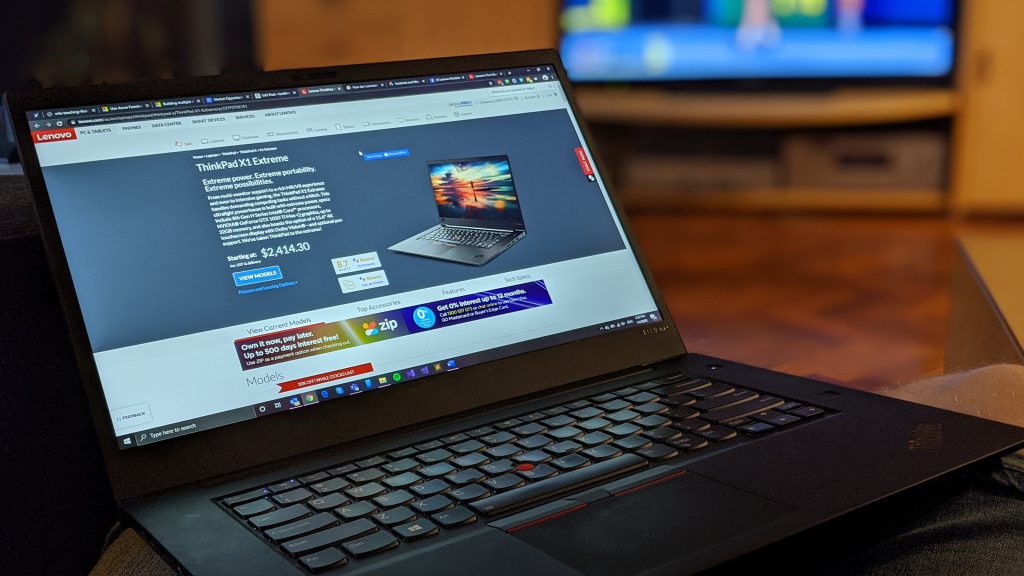 I used to present at conferences using my Yoga 900. Not having an HDMI port, I used a USB-c to HDMI adapter to project my screen. The adapters broke constantly. The X1 Extreme has a full sized dedicated HDMI port, and it has just made everything that little bit easier. I realise that to fit the HDMI, the laptop can't be super thin (like the X1 Carbon), so it is a trade-off I am willing to make.
Wear and Tear
I use my devices a lot. I don't have a desktop, and I move the laptops all the time. They are connected to a hub with three screens attached, they travel on planes, trains and automobiles, they are packed in bags, written 1000s of words on for articles, scripts, social media, chat etc., and they are turned on and off frequently. Of course this means a lot of wear and tear. While I take great care for all of them, they get knocked, scratched, updated and pushed. The X1E has held up remarkably well. Apart from the touch pad getting a nice shine from lots of use, and a single key coming loose from use (I think), the X1E has handled it all. ThinkPads are known to be durable devices, and this certainly held true this time too.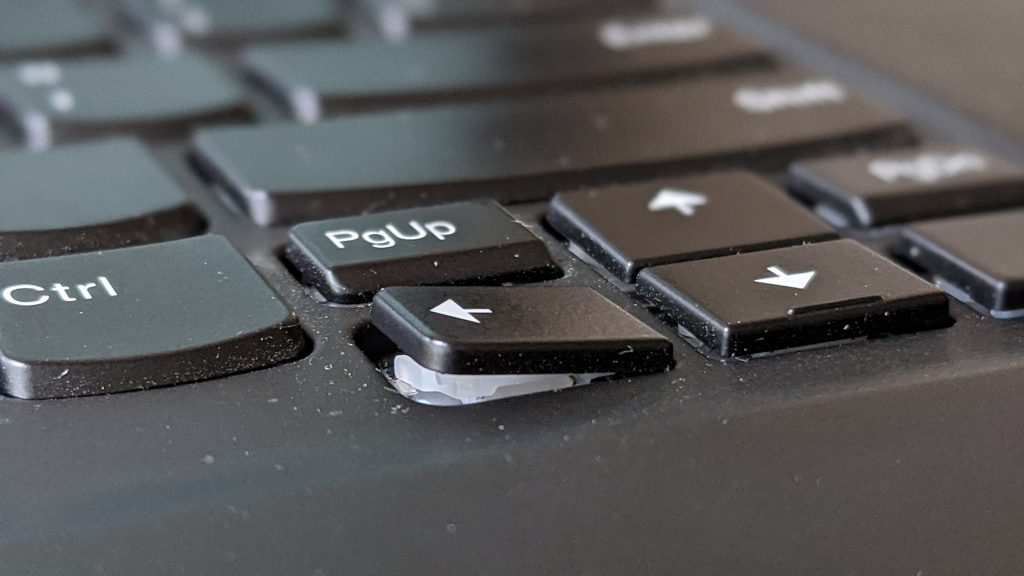 One Year Plus
I plan on using the X1 Extreme for the foreseeable future. I have a three-year warranty on the machine, and it still works just like new. I record and edit a lot of videos on the machine, and it seems to have enough grunt to handle what I throw at it. 4K videos do seem to strain the machine, but I am pretty sure it is more about the software than the hardware, being able to handle it.
My Yoga 900 from April 2015 is still very much in use (as my machine for Windows 10 fast ring). I tend to use this machine for just as long.