I am writing this as I sit in a comfortable Danish train on first class enjoying the space and enjoying the expectation of what lies ahead. As I zoom towards Hamburg to pick up the family and spend three weeks in Europe visiting friends, family and discovering new places, I think back of the last three and a bit mad weeks. The biggest trip I have ever done in terms of conferences, user groups, presentations, workshop and so much more.
Having been travelling for conferences and other work commitments extensively for the past 4 years, I have now come to a point, where any travel needs not only expose my brand and my content to a new and larger audience, but I also need to be able to fill out any spare time with other work and exposure. Being a freelancer and independent software developer, my time is always in demand, either for paying bills, building brand or, of course, spending with my family. Every decision to spend time away from home needs to be an absolute win.
Sweden
With this in mind I left Melbourne on 5 June and headed for Stockholm. Travelling 24 hours in a metal tube with 300 other people (and their diseases) is never something I look forward to, but I have kinda got used to it by now (and it is a small price to pay to live where we do). Luckily I am not super tall and can actually sleep okay on a plane. Combined with never had to sleep much, I generally arrive ready to do stuff. First event was the Swedish conference DevSum, which has been running for a number of years. I was invited to do a talk, as well as a workshop. Currently being heavily involved in HoloLens education and development, I did a 1-day workshop on HoloLens development together with my mate Jimmy, and it was well received. Because HoloLens and mixed reality is still such a new area, most companies don't know how to take advantage of it. Not only is my job general education of the area, but also making it obvious how companies can benefit, so they in turn will send their staff on my workshops. While I love doing what I do, it does mean that I don't get the largest crowds in my workshops, but they are consistently increasing.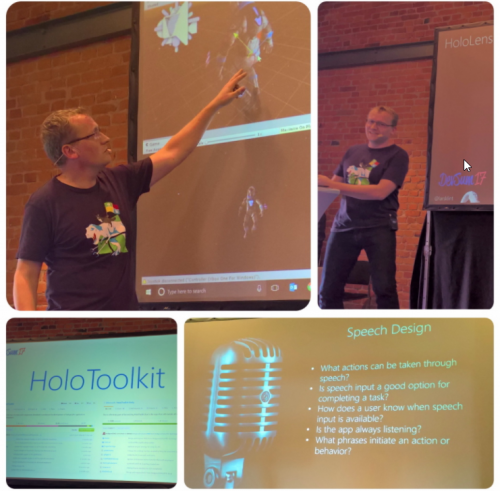 After a full day workshop, working for a day for my Australian clients, writing an article, and a highly successful talk at Devsum, the Saturday was a "Swedish Cultural Day", which is a nice initiative to show the international speakers how to Sweden. We went on a ferry to a small island in the Stockholm archipelago, and had a great lunch of traditional Swedish food (meat balls!!) followed by a visit to a local micro-brewery. As a bonus, the Swedish chef even made an appearance!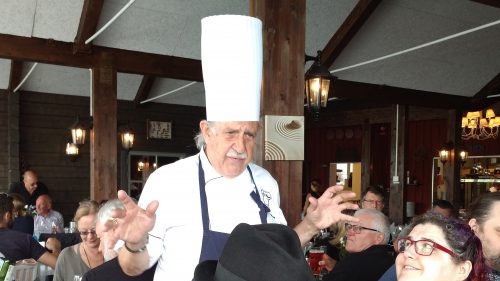 Norway
The following day I was off to Oslo. I had decided to take the train, because not only does it take about the same time, but you also get free wifi, a nice seat, food, a view and you can work on the way. I love train travel.
I got into Oslo around lunch time, checked in to my hotel, dropped the bags in the room and immediately went to find my mate Troy. We were doing a Pluralsight play by play later that week, and needed to plan it out that afternoon. At night we met up with other speakers for NDC Oslo and had dinner, caught up on the world situation (according to geeks) and established new relationships. Remember how I said before that I use all of the available time when away? Meeting up with other speakers and friends is keeping a network alive that ultimately provide me with leads and work to pay my bills. Quite often I don't feel like going out for dinner or having a beer in the hotel bar, but that time investment establishes or reinforces that network. Even when I am "socialising", it is in fact work of some form.
The Monday in Oslo I did a private presentation for a very interesting Norwegian consultancy called Kantega. Through the previously mentioned network one of the managers there had found me and asked me to come and show them all about the HoloLens. I spent all morning and some of the afternoon there making sure everyone had a go at the device, as well as gave a presentation on how to develop for the device.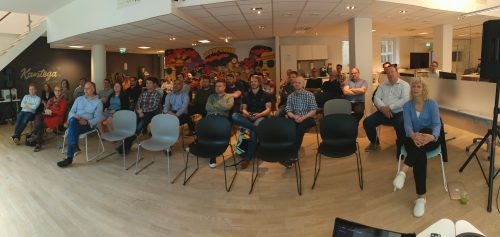 Right after the gig at Kantega, I rushed back to the hotel to plan another play by play recording, this time with Scott Allen. We spent a couple of hours in the lobby of the hotel going over our content, and then I went with Troy and Scott Helme to an OWASP user group they were presenting at.
Tuesday was working for Aussie clients again (gotta pay some bills) and then my mate Stephen Haunts arrived from the UK, and the afternoon was then spent planning the two play by play recordings we were doing as well. In the evening I was part of the NDC Oslo community Tuesday, where a number of user groups use the main NDC Oslo venue to host talks, and mine was on HoloLens development (of course).
Wednesday was the official opening of NDC Oslo, the very best developer conference in the world. I have been to a number of these events now, and nothing beats the inspiration, atmosphere and organisation of this event. I was particularly looking forward to the keynote by Dylan Beattie. And he nailed it. Twice. Here is the intro song he did. See if you can spot some familiar faces…
On the Wednesday I also had to record two Pluralsight play by plays with Duncan and Troy. They were the two first of six in total, and we nailed them. I absolutely love doing these courses. Talking to the absolute experts in their fields, picking their brains, asking great questions and sharing that knowledge is gold.
At night was the Oslo Fjord Cruise, which is a great way to meet a ton of other speakers and attendees. Unlike most conferences, NDC makes very little difference between speakers and attendees. I like this very much. Just because I am speaking on a topic, doesn't mean I know everything (no one does), so I love talking to the attendees and see what make them tick as well.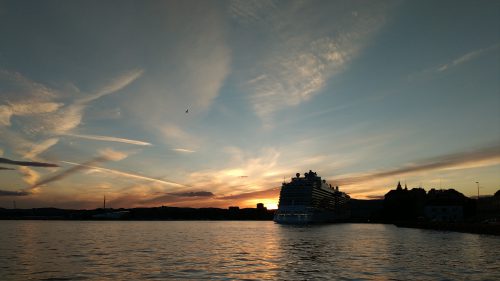 Thursday was the crazy day of recording madness. The ambitious goal was to record 4 separate courses in one day, which meant starting at 8am and meeting up with Jon Skeet to quickly go through the first course. The day became a blur of lights, cameras, takes, retakes, demo successes, demo fails, more retakes, brain overload, amazing jokes (yes, really) and no sunlight whatsoever. I recorded one with Jon Skeet on creating a better tech community, one with Scott Allen on ASP.NET Core and Azure deployments, and then two with Stephen Haunts on ethical hacking and mixed reality experiences. We finished at 7:18pm after 10 hours and bit of recording. However, at 7:30pm I had to host the "spectacular failures" event at the NDC party, so not time to waste and I ran upstairs to get the show on the road. Phew.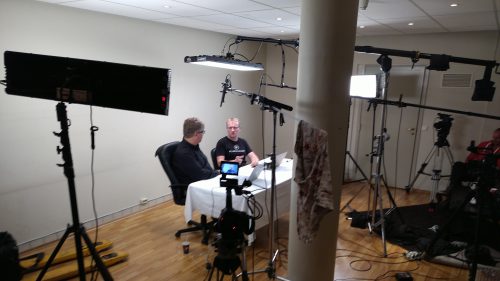 Friday morning I had a small cameo in Troy's talk, I then recorded an interview with the Hello World YouTube show on how spatial mapping defines the HoloLens, before having to give my own presentation at NDC. I had a full room  listening to my ramblings on how to make mixed reality experiences even better and more engaging. If you have ever stood in front of a Norwegian audience, you know how difficult they are to open up and get involved in the conversation. I got 9 questions. Yes, nine. Pretty darn good if I may say so myself.
The last gig for the Norwegian leg of the trip was to present a 5-minute ignite talk at PubConf. This is a fixed length, 20-slide talk where the slides change automatically. You just have to keep up. They are not recorded, highly politically incorrect and a brilliant way to let off steam at the end of a crazy conference schedule. This was my fourth PubConf talk and they always bring a laugh, a crowd and free beer. I decided to make a joke on myself, by describing how Windows Phone is making a huge comeback. Yeah…..
Denmark
I flew into Copenhagen Saturday morning, had a bite to eat, then went directly to a 40th birthday party for my oldest friend. I have known this guy since I was 6 years old, and I was so immensely happy to be able to help celebrate his old ass. Monday evening I presented at another usergroup, this time the Copenhagen .NET-ers. The venue was the brand new Microsoft building north of Copenhagen, and I gave a talk in the most amazing room.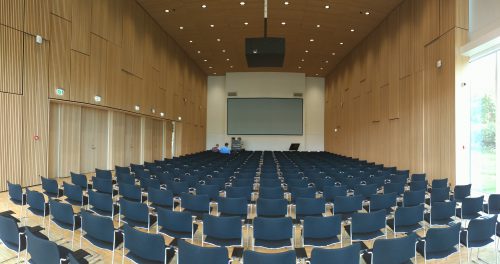 Tuesday was another private gig at one of the largest pharmaceutical companies in the world. They had specifically asked me to tailor a presentation for them on HoloLens that they could use as inspiration for future projects. It was a captive audience and there were tons of great questions. In fact, see for yourself, as the whole presentation was live streamed on the company YouTube channel (the presentation starts at about 12min).
The rest of the week went with working for my Aussie clients, catching up on a million things that had been neglected and the following week I had my last engagement, doing a 2-day workshop for a Danish training company, called SkillsHouse. It was a great opportunity to go more in depth with the technology and let the attendees use the device a lot more than in the 1-day workshop. I had great feedback again, and I have already been asked to do another two workshops. Win. Also, as good measure I did another user group talk in Århus on the Monday night as well.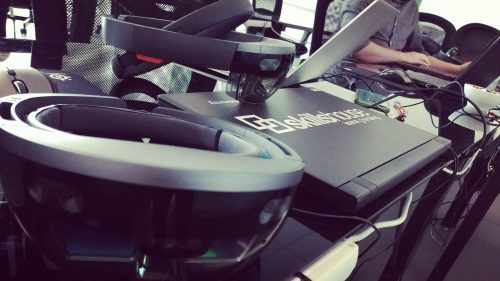 The next three weeks are now in Holiday mode, as I mentioned at the very beginning. It has been a mad 3 weeks and a bit, but that is the only way it makes sense to do the travel I do. I am back in Europe again in October for NDC Techtown and more workshops, but for now, I will enjoy the Danish summer. Oh wait, that was last Monday.