As most of you know, I talk a bit about about Lenovo hardware, for better or for worse. I don't work for them, and I don't get paid for anything I do with them. I do spend my own cash on hardware occasionally and sometimes they shout me hardware of some kind. It is a great relationship, but these words, and any other you might read from me, are my own. I am not bound by contracts, promises etc. So with that out of the way, let's turn our attention to the task at hand (cause it does actually fit in one hand): The Lenovo Yoga Book.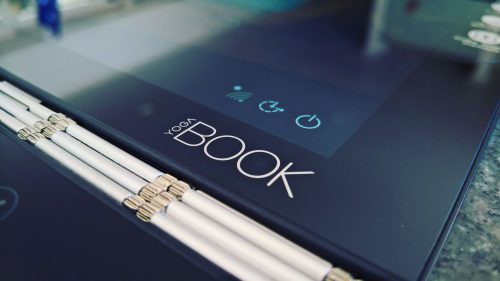 Segment
Let's start with the hard questions: Where does it fit? The Yoga Book is not quite a laptop, not quite a tablet, definitely not a phone. It has a touch screen, it has a mighty big touch pad and it has a full keyboard, and thanks to the brilliant "watch band" hinge it also can fold to hide the keyboard and become a tablet. Yet, it is tiny. I can argue it is a new segment, but I am not sure that does anyone any favours. I am going to mentally place it with the tablets with keyboards. That seems the best fit.
Specs
As you might expect the technical specifications of the Yoga Book aren't impressive. But they don't have to be.

It also has a 64GB SSD for storage, which can be be extended with a micro SD card up to 128GB. It also has modern WiFi 802.11 a/b/g/n/ac, with Bluetooth 4.0. The device I have is running Windows, but you can also get an Android edition, which has the same specs.
It is not a device that will run Visual Studio 2017, nor was it meant to. It does appear a bit sluggish at times, which I didn't expect. Opening programs, documents and even bringing up the start menu has a small lag. You get used to it in no time and it isn't a deal breaker, but considering the $1,000 price tag, I would have expected better performance.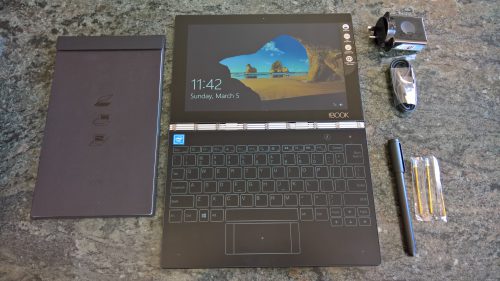 Halo Keyboard
This is the pièce de résistance of the device for me. The keyboard was initially a cause of concern because it is kinda there, kinda not there.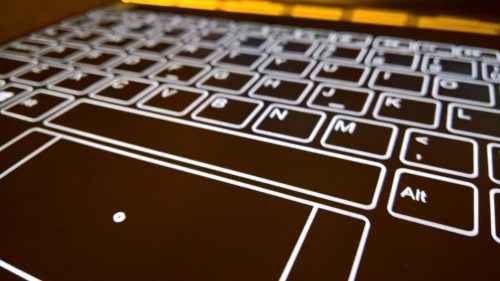 The keyboard lights up on the flat touch surface and kinda just hovers there. Now, that is all lovely and pretty and impressive, but what is it like to actually use? I have used the keyboard and the device in turn, every day for the past 7 days. In fact, I am writing this review on it. At first it was really difficult to even place my fingers correctly. I constantly missed keys, hit two at the same time and accidentally hovered over keys that would trigger. It was quite frustrating, But I persevered and I am definitely getting better.
The keys have a slight vibration when you type, which is okay. But they are loud. And I haven't found a way to disable the buzzing.
The speed of my typing is nowhere near my usual daily keyboard, but increasing nonetheless. One hint that Lenovo might have had similar test results is that the backspace is a very large key. Easy to hit, because you will use it a lot. Would I write an email on it? Definitely. Would I write articles and books? Definitely not.
UPDATE: You can change some settings for the Halo keyboard after all: http://www.windowscentral.com/how-customize-halo-keyboard-lenovo-yoga-book-windows
Drawing
So far I have only spoken about the Yoga Book as an everyday tablet/laptop in the way that I would normally use one. That is, however, only half the story. The story of the Yoga Book is as much around creative expression as it is around productivity. There are a few scenarios, which I haven't seen before.
First, the Yoga Book come with the Real Pen. This is a battery-less stylus that has replaceable tips, with and without ink, that can detect 2048 pressure points. Included in the box is also a magnetic writing pad that you can set on top of the touch pad and then write with real ink on real paper. The magic is that using a program like OneNote, your handwritten notes are instantly digitized. It is a very cool effect and if you take a lot of handwritten notes it can be extremely useful too.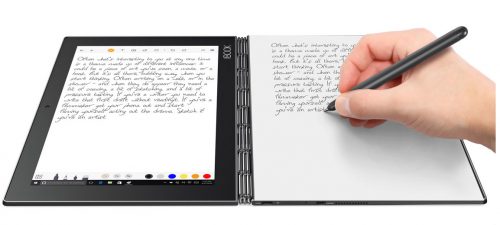 However, there are a few issues with this. First of all, the notebook only contains 15 physical sheets of paper, which I would go through in a single day. Secondly, could argue that you can just fill up the pad at home, but the paper size is some non-standard size of 147mm X 234mm, in between A4 and A5. And Lenovo doesn't sell it. This seem to be an oversight, and certainly limits my use of the device for note taking.
Second, the Yoga Book is aimed at creatives, such as artists and designers. Granted I haven't got any of those skills myself, but it seems like a really nice device to prototype a quick idea or show a design to a client on site for example. I can't see creative professionals using this device as their only one, but it could be a really great addition for sure. To use the Real Pen as a drawing tool, Lenovo recommends using ArtRage, which is a pretty decent tool in my limited knowledge of such applications. However, it isn't included for free with the device. You have the trial version and then need to buy it. Really? Seriously? The device is $1,000 and this piece of make-or-break software is not included?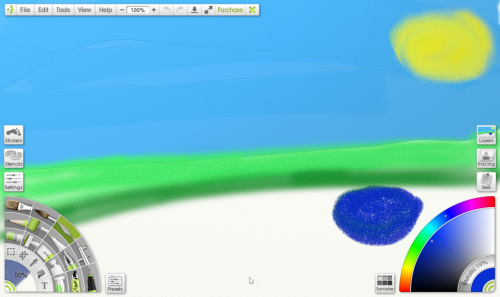 Using it every day
To get the most out of the device and not just "give it a try", I decided to use the device extensively over a week. I couldn't do it exclusively, because, as stated above, some applications just can't run on it. Applications I need every day. I am still getting used to the keyboard and I use the Real Pen more and more to take notes. You don't have to use paper and ink for notes, as the touchpad works fine with the standard stylus tip too. I am getting very used to the form factor and it is extremely portable. It is just like carrying a notepad around in your bag.
It is really well built. When you use it and hold it, it feels like a premium device and it has no symptoms of weak parts. I like the look of it and I like the function of it. Part of what makes it a really excellent everyday device is the battery life. The official rating says 12-13 hours, but I got to about 8-9 hours. That is a full day of work. And the device even charges via a standard micro USB.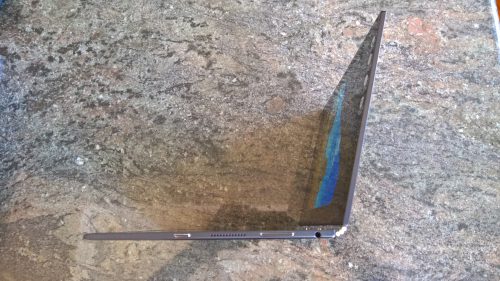 Summing Up
Lenovo is pushing the market definition of what a tablet or laptop should like with the Yoga Book. I like most parts of it, and I don't like others. It is not a perfect device, but it is great once you find out how it can fit into your day.
Pros
Well built device. Solid engineering work.
Real Pen works really well. No setup, no batteries. Just works.
Light weight.
Battery life.
Cons
System lag. Sometimes I do things twice because of it.
Time to get used to keyboard. I am still not quite used to it.
Keyboard noise from vibration. It gets annoying.
Missing replacement paper for the notepad.
Have you got your own experience with the Yoga Book or want to know more? Leave a comment below.