For the last few weeks I have been sporting a Microsoft Band, a fitness tracker and wearable gadget from the software giant. It isn't the first time that Microsoft has made hardware. In the past we have seen peripheral PC hardware such as mice and keyboards, and of course there is the Xbox franchise just to name a few. But this is the first time that Microsoft has created an almost Apple like interest in a product. The first batch of Bands that was released back on 29 October 2014 sold out in a matter of days. It is also the first time that software has been released for iOS, Android and Windows Phone to accommodate all three major platforms and allow non-microsoft users to pick up a Band.
It is in more ways than one a turning point for Microsoft.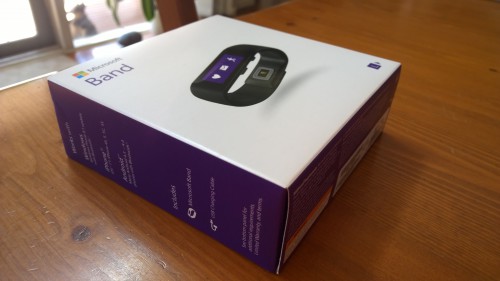 First Impressions
First impression of the Band is mostly praise. It feels like quality, it feels well-built and it has a nice finish to it. Having used a FitBit for about a year the Band does come across as a little bulky. It isn't particular flexible and it takes a little practise to put it on without feeling like you are pulling it beyond what the strap can do.
The touch screen is small, but it works. It is a bit strange getting used to a tiny touch screen of 320 by 106 pixels when we are just getting used to touch devices growing in size all the time. But then again, I wouldn't want a Lumia 1520 on my wrist.
Setup
The setup and get started experience is the best I have come across in a long time. You only need to install the Microsoft Health app, turn on the Band and you get guided through a smooth setup process that just worked. Based on previous experiences with Microsoft products, I didn't expect that. I used a Windows Phone for the setup, but I can only imagine the iOS and Android experiences will be equally good.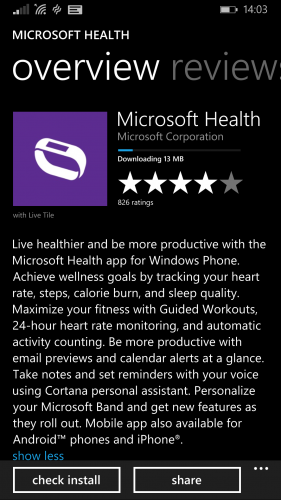 All connection with your phone is via Bluetooth LE (Low Energy), which means there is very little drain on your phone battery and you Band is "always on" as long as it can connect to your phone.
You then enter a few details about yourself such as height and weight, and you are good to go. Your band will immediately start to collect all sorts of data, the main one being the number of steps you take. And yes, you can of course personalise the Band with different colours and backgrounds.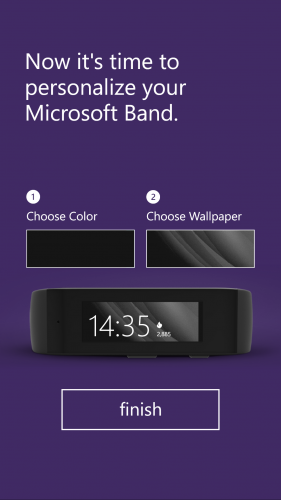 So, first impressions are good, but what about actually using the band. Coming up next.
Day to Day Use
The whole idea of any wearable tech device is to use it all the time without thinking about it. You don't want to have to remember to turn them on, change settings every half hour or have them run out of power halfway through the day. In short, they need to be non-interfering with your daily use.
Does the Band fit this bill? Mostly.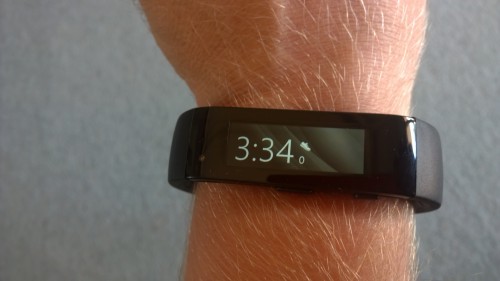 As mentioned above I had a FitBit before, which I used every day and every night. I often forgot it was there, and I use the Band in the same way. Mostly I don't notice it, but it is slightly clunkier and a little stiffer in construction. It is not like having a piece of cardboard with some wood attached to your wrist, but it isn't exactly a pillow of velvet either.
The main thing I miss though is using the device in the pool, not worrying about it in the shower and dancing in the rain. In short, the Band is not waterproof. It probably would have added to the dimensions of the device to make it waterproof, but it would have been very useful.
Sensors
As a piece of hardware, the Band is impressive. In this tiny package on your wrist are ten different sensors. Ten.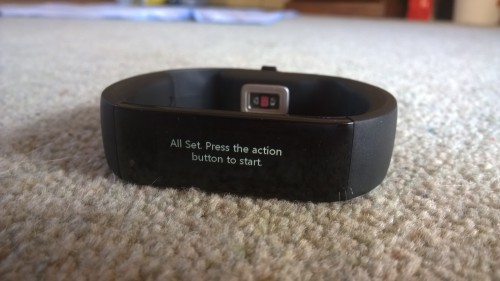 (below from http://www.microsoft.com/microsoft-band/en-us/support/hardware/sensors)
Optical Heart Rate Monitor
It continuously monitors and reports your current heart rate. Measurements of the fluctuations in your heart rate help add quality to your calories burned measurements and to performance stats that you get when you track runs, workouts, and sleep.
Accelerometer/Gyrometer
The accelerometer/gyrometer in your band detects motion. This info is used to calculate things like number of steps taken, which can be combined with info from your profile and heart rate measurements to estimate how many calories you burn throughout the day or during a workout. For info on tracking these measurements
GPS
When you turn GPS on during distance travel activities like running, hiking, or biking, it records your route, and collects info about the distance you've travel. When you sync your band with your phone, you'll find a map of your route in the Microsoft Health app so you can retrace your favourite routes later.
Microphone
Use the built-in microphone to speak to Cortana, your personal digital assistant (available only on Windows Phone 8.1 Update). The microphone is near the left side of the touchscreen. When Cortana's enabled on both your phone and on your band, just press and hold the action button, and speak into the mic.
This is kind of a cool feature and it makes you feel a little like a secret agent, when you talk into your wrist.
Ambient Light Sensor
Info from the ambient light sensor can be used to adjust the brightness of your touchscreen display automatically.
Galvanic Skin Response (GSR) sensors
The GSR sensor measures the conductivity of your skin between the GSR sensor under the clasp and the secondary GSR contact point under the face of your Microsoft Band. This tells your Microsoft Band whether you're wearing it, so it can adjust how it monitors your activities.
UV Sensor
Get a snapshot of the UV level where you are by tapping the UV Tile, so you can decide if you need sunscreen, a hat, or maybe a few hours indoors.
Skin Temperature
Not much is known about the skin temperature sensor yet, other than it is there. Microsoft is working on giving access to it though.
Capacitive Sensor
I haven't been able to find much information about this sensor, other than it exists.
Battery Life
When the first reports and reviews came out about the Band, one of the things on the "cons" list was the battery life. There were general consensus that it lasted about a day, which made it a bit of a chore to keep going each and every day.
Now, I am not sure if anything has changed, or I just use the Band differently, but I get somewhere between 3 and 4 days from a single charge. That is indeed very liveable and you don't have to attend Electricity Addicts Anonymous just yet.
To be fair I don't use the GPS function much and if you go for long runs with it turned on it will probably chew through the battery quite fast.
Recent Updates
The Band received a major update just recently that introduced a number of new features and integration points.
Teeny Weeny Keyboard
The first and most talked about feature is the full keyboard squeezed into the 1.4" screen. It sounds crazy, but it works surprisingly well. You don't want to write a novel on it, but for short replies it is really useful.
Web Dashboard
A much needed web portal was also added, so you can log in and see all your data in the browser rather than relying on the phone app. This means you can see more data at one glance, and there are also small bits of data analysis added, especially around sleep patterns.
Voice Dictation
Instead of using the tiny keyboard, Cortana can help you type as well. Use your voice to dictate and she will get it all correct (right?). Again, it makes you look like a secret agent when you talk into your wrist. Extra points for that.
SDK
A preview of the Microsoft Band SDK was also released so developers can integrate their apps with the Band. I will go into much more details about the SDK in Part 2 of this review.
Competition from Other Vendors
We can't look at the Band without considering the competition. There are two main avenues in which Microsoft is competing with the Band: Hardware and software.
On the hardware front it is competing with devices like the FitBit, Jawbone and Wellograph, but also smart watches are within its sights. The Pebble especially now seems less relevant as developers can develop apps that interact with and on the band, but the eco-system is not there yet of course.
On the software front again FitBit is a competitor, but also services like RunKeeper and Endomondo are also on the radar. Microsoft has created the Microsoft Health platform, which aims to collate health and fitness data through a cloud service and easy integration points to use from any app that wishes to feed data into the platform. Consumers can then access this data through the Microsoft Health apps available for iOS, Android and Windows Phone.
Customer Support
One morning I couldn't get the Band to start up, respond to charging or anything really. It appeared to be dead. I got onto the online char support, and even though it was late in the US, early morning here in Australia, there was still someone there to help me. In about 10 minutes we had gone through some trouble shooting steps only to find out that my Band had gone so much out of power that it was non-responsive. All was well and the lady on the other end stayed on the line until she was sure the Band was working for me. Outstanding.
Conclusion
In short, I love it. Apart from the slightly bulky form factor and lack of water proofing, I can't fault it. As a first generation device it is pretty damn impressive and Microsoft has major trouble keeping up with demand. The fact they are only sold in the US is probably because there just isn't enough produced to sustain more markets.
The observant reader will have noticed that I said the Band has ten sensors and I only listed nine. As far as I can tell, the last sensor is the screen, which is kind of like saying the last wheel on a car is the steering wheel. A little bit of cheating. But there you go.
My hope is that the competitors are taking note and try to do one better. The Microsoft Band is an amazing device that will push the boundaries of wearable tech and if we are lucky it will make the whole industry lift their game. I can't wait to see what the next generation devices will look like.